The 30th Olympics Summer Games started at 9:00 p.m. London time, which was 3:00 Central.  I promptly cast on these much-neglected Angee Socks from September 2009.  Sock #1 still fits so my foot didn't get bigger (as I've heard that your feet get bigger as you get older!).   This is for the Hazel Knuts Team.
The other project I'll work on is the Gush socks by Yarnissima - which I started June 2011.  This uses Bugga in Orange Assasin Bug and I'll complete this pair for the Team Formerly Known As Sanguine Gryphon.
As you can see, I haven't finished ONE sock.  I'm about 10 rows short... 
So these two projects are going with me on my weekend at my friend's.  I did pack my Honey Bunches shawl which is mostly garter stitches in case I have to pay attention to the socks.  I have 3 other socks that I know I'll finish in August, but they have been worked on recently, so they don't qualify for the Revellenic Games.  WIP Wresting events must not have been worked on since May 15, 2012.
I forgot to report to those asking me about using ziploc bags. They are only for storage so I can see easily which SIP to work on. Once selected, they stay in a "matching" project bag as you can tell from the photos above.  I ordered this project bag to use during the Olympics, but it didn't come on time - it was supposed to be delivered today!!  or even yesterday, according to the tracking... Anyway, it's not like I'm short of project bags!!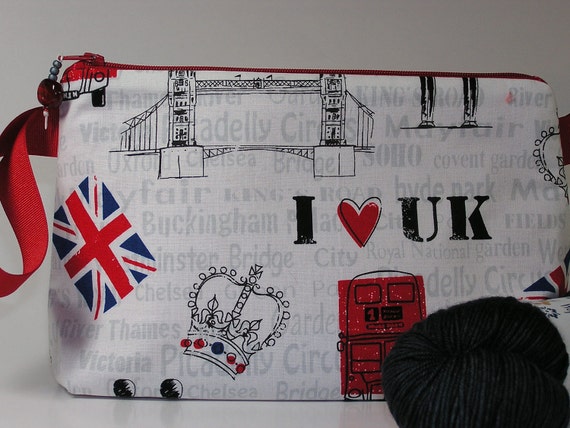 These bags are made by Michele of Three Bags Full Etsy Store.  She makes a lot of Anne Hanson's project bags so it's like I'm using project bags used by knitting celebrities...
Gotta go!  Have a nice weekend.  Not sure if I'll have signals where I'm at.  If I do, I'll be sure to send some photos of some lake views with sock progress, of course!