NO ONE!!  (well, Pinky changed her count, but for the wrong reason).
On Oct 17, my count was + 21.  Then, I added 3 for the 2 skeins of Western Grapeleaf Skeletonizer and 1 skein of Milkweed Beetle. = +24.  Then, I  sent 2 off to Netherlands (4 skeins, but count as 2 as you need 2 skeins to knit a complete pair!) + 22.  Then, I sent 1 skein off to Susan for the swap package = +21 and here's the tricky one.. I finished the shawl to be sent to Susan, but I never counted it yet!!  HAHA!  So, the answer is 20.  Since only 5 people read my blog, can each one of you pm me your address (well, I know Christy's and Pinky's) so I can send you each skein of sock yarn?  I need to reduce my count!!
OK - since last Wednesday,  I've actually  made quite a bit of progress on knitting, but not having the sun (we've had gusty, windy storms the past 2 days and we may see snow soon!), I haven't taken many photos.  So, for the record, the Meliae shawl has been blocked and sent to Susan.  The designer, Melissa Goodale even asked to use this pic on the pattern page!
I love this pattern and plan to knit another one.  I've also made progress on my Multnomah shawl:
I hope to have enough yarn for 10 repeats of the feather and fan lace repeats.  The pattern was written for Bugga, but I'm using a size 5 needle instead of 3 because well, my size 5 is a Signature Needle Arts circular!  I love knitting with those needles!  So, in case I ran out of yarn, I was thinking of doing a few rows or 1 repeat as the border with Ruby Tailed Wasp (original yarn is Four-legged Leaf Beetle):
I don't want something very contrasty, but still, you can tell it's a different color.  So I think I will knit until I run out of yarn and then put a lifeline and then use Ruby-tailed Wasp and see if I like it.  As of now, I'm pissed at the thing.  I apparently had an accidental YarnOver and then, I proceeded to knit 6 rows on this YO.  By the time I realize it, it was a "hole" where the YO was.  So, I decided to drop that stitch.  Well, then, it began to look like Clapotis with the drop stitch!  So, I've decided to tink back.  I thought about putting a lifeline about 5 rows back, but I think it's faster tinking back 2000 stitches.
Next, I finished my Artemis and Apollo socks for the September Sockdown.  However, I haven't woven in the ends nor taken a photo, so I will not count a minus one for this yet.  I'm also working on the Through The Loops Mystery Sock.  I'm working on the leg (clue #4) for sock 1, and the heel flap (clue #3) for sock 2.  I want to finish these by the end of the month because I have lots of patterns to choose from!  I'm definitely working Lisa Stichweh's Mystery Sock.  I haven't decided on the yarn color yet.  Then, I want to knit this pattern by Linda Welch - South Forks Sock.  Click here to learn more about the pattern and 100% of the proceeds will benefit the Leukemia and Lymphoma Society.
Next, I also want to knit Jeannie Cartmel's Everything's Connected Socks: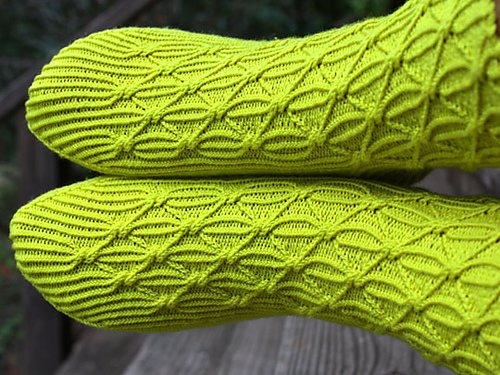 And I have some yarn set aside for some beaded socks!
I'm nuts!  Stay tune next week to see what I decided on!
My only acquisition the last few days was my Swap package (which I'll talk about later) and this skein of Emerald City from The Tinsmith's Wife yarn shop in Texas:
It's tealish with more green - vs. Surf, which was tealish with more blue.  Here's a photo comparing Deep Peacock (the first shipment of Hazel Knits Sock Club in Feb 2009), Emerald City, and Surf (knitting the TTL Mystery Sock):
So, PLUS 1 = 21.
And I'm sure you're dying to know - did I give up the Tranquil.... YES, I DID!  Susan who received it said in her note after reading my blog, "I love your friends!" - for encouraging me to give the skein up.  So, MINUS 1.  Then, I sent off a skein of Western Grapeleaf Skeletonizer because Debi wants Yellow Lobster for a trade and the seller only wants a trade for WGS.  So, I gave it up for Debi.  I kept looking at it as I packed it up.  Luckily, I have another skein!  MINUS 2.  So for today, the total is 19! 
I was thinking... how about I don't get anymore yarn  -- how about I have to stay under 30 for the rest of the year?  I know that's a lot, but I can place an order of 10 skeins in one shot.  So limiting myself to 10 for the next 10 weeks could be a challenge.  Well, when I send your skeins off (the people who read my post last week), I can buy 5 more! Hehe..
OK - Susan's swap package.  She was so thoughtful to pick up all these beautiful postcards from the places she stopped at.  She went on a Mediterranean Cruise.  She wrote a long blog post - her second post since she created her blog in 2008 >> On a boat to somewhere.  There is a scrapboook. I want to put the postcards into the book so I'll remind myself that I want to visit these places one day.  There is a compartmentized box (in blue!) which I've already filled with beads.  A set of Hiya-Hiya stitch markers (would you believe it?  I don't have these!) and some thingys to prevent your stitches from falling off your needles, and a shawl stick...  OK - those are the not-travel-related items - she thought I would like them and I do!
Then, there's a bar of soap from St. Tropez, France (already in my bathroom!), stitch-markers made by her son, Jeremy, using Murano beads from Italy:
and the shawl - it turned out smaller than she expected, so she calls it a scarf!  It's knitted with Sanguine Gryphon's Little Traveler in Venezia, in Marina, a pattern by Kate Blackburn.
I just love the color!!!!!!!!!!
OK - I think I've bored you to death with this long post.  I must now go figure out a way to organize Pinky's and my patterns!  And knit some while watching the movie, The Girl Who Played With Fire.